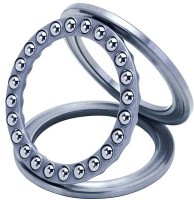 Thrust ball bearings
Thrust ball bearings can be devided into single direction and double . Single direction thrust ball bearings, as their name suggests, can accommodate axial loads in one direction and thus locate a shaft axially in one direction. They must not be subjected to any radial load. Double direction thrust ball bearings can accommodate axial loads acting in both directions and can thus serve to axially locate a shaft in both directions. They must not be subjected to radial load.
Features:
1. Available in two designs: single direction thrust ball bearings and double direction thrust ball bearings
2. To accommodate initial misalignments in an assembly both designs are available with spherical aligning seats or aligning seat washers.
3. High quality steel-ultra clean steel to extend bearing life by up to 80%.
4. Advanced Grease Technology - NSK lubricants that can extend grease life and performance.
5. High Grade Balls - Quiet and smooth operation even at high speed.
6. Optional seating rings take initial misalignment.